Forging is a manufacturing process involving the shaping of metal using localized compressive forces.There are two classed of drop forged chain in ZMIE,forged link chain and forged rivetless chain.
Forged link chain has proven to be one of the most reliable conveying mediums offering a combination of versality,strength and abrasion resistance.These chains are assembled with forged links to design conveyor belts that are used for conveying goods and heavy loads in industrial sector.
Forged rivetless chains are easy and fastassembly and dismantling by hand.Forged rivetless chains are commonly used in car washes ,automotive manufacturing,trolley systems,as well as general and overhead conveying systems.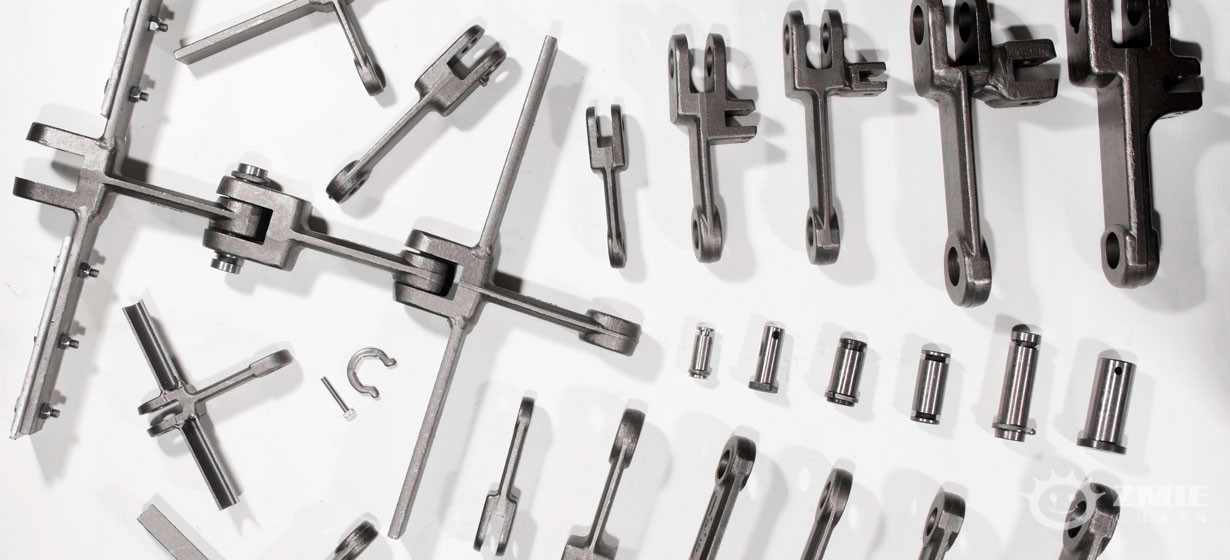 | Image | Drop Forged Chain | Description |
| --- | --- | --- |
| | Drop forged link chain flight | Timber industry chain | Scraper chain conveyor | High strength chain | Forged fork Link chains are used for conveying goods and heavy loads in the industrial sector. |
| | Drop Forged overhead chain | Power and free overhead conveyor | X348 X 458 chain X678 | Forged Rivetless Chain | Forged Rivetless Chain is used in car washes, auto manufacturing, trolley systems, general and overhead conveying systems. |
| | Drop forged pin | Overhead conveyor chain X348 X458 X678 pin | Conveyor chain parts | ZMIE has serval kinds of drop forged pin, such as standard type, smooth type, oil groove type, and extended pin. |
| | Drop forged sugar mill conveyor chain X698 | Forged Rivetless Chain | Overhead conveyor chain | Drop forged sugar mill chain X698 is a kind of heavy duty scraper chain. |
| | X348 X458 X678 cat drive chain for drop forged conveyor | Caterpillar track chain | Overhead conveyor chain | Zmie offers a complete line of 3", 4" & 6" Power Only and Power & Free Conveyor systems, components and accessories. |
| | X228 drop forged rivetless chain | Light duty overhead conveyor | Power and free conveyor | X228 drop forged rivetless chain widely used in material handling. |
| | S228 zinc plated forged rivetless chain | Light duty overhead trolley system | Power and free conveyor | S228 Forged Rivetless Chain is easy and fast assembly and dismantling by hand. |
| | Drop forged link chain with plastic flight | Forged scraper conveyor chain | Link chain china suppliers | The Drop forged link chains are also called forged chains or scraper chains. |
| | Alloy steel drop forged link chain | Material handling conveyor chain | Agricultural conveyor chain | ZMIE offers forged chain as Standard Forged Chain, X Series Chain and S Series Chain. |