Conveyor chains can vary widely depending on direction of transport, application environment and transported media..
Downtime for your conveyor system can be costly and cause your facility to fall behind on important operations.
Which is why you need a chain manufacturer who has experienced it all.
ZMIE provides high quality materials and manufacturing methods to suit the most arduous of conveyor chain applications.
Performance, durability, safety and consistency typify our conveyor chain solutions.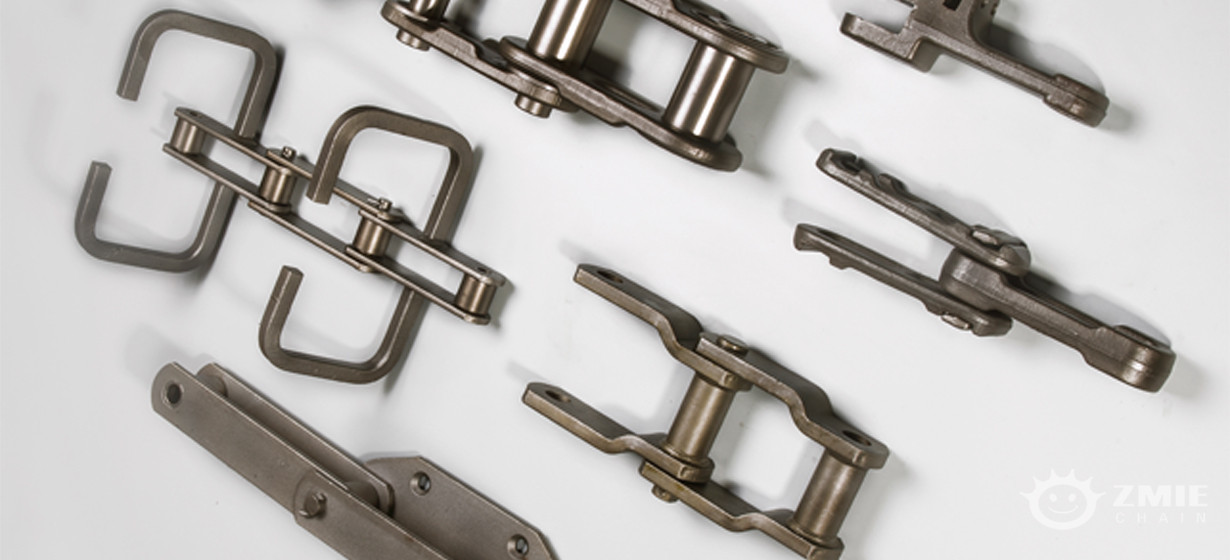 | Image | Conveyor Chain | Description |
| --- | --- | --- |
| | Deep pan apron conveyor chain | industrial heavy duty chain | Engineering Class Chain | Cement Pan Conveyor | Pan Apron Conveyor Chain is an engineering steel chain. |
| | welded link chain and attachments | cement industry chain | Welded Steel Chain | whx chain | Conveyor Chain | Welded link chain provide an economical and superior method for conveying most materials. |
| | Steel Double Flex Chain | Cast links for dairy industry | Case Conveyor Chain | CC600 | Cast link chain is a conveyor chain manufactured by casting.They are available in plastic, steel, iron or stainless steel. |
| | 8" Enclosed Track Chain | Material handling enclosed track conveyor | Conveyor Chain | Zmie's Enclosed Track provides continuous baking systems customers with long-lasting, high quality enclosed track systems. |
| | BI-Planar cardan conveyor Chain 42032 | Material handling enclosed track conveyor |Conveyor chain | BI-Planar Cardan Conveyor Chain is one kind of enclosed track overhead conveyor chain. |
| | BI-Planar cardan conveyor Chain 72032 | Material handling conveyor | Enclosed track chain | BI-Planar Cardan Conveyor Chain is one kind of enclosed track chains, which is composed of high precision stamped chain plate. |
| | Driver chain for 8" Enclosed Track Chain | Powder coating conveyor chain | Industrial drive chain | Cardan chain | ZMIE also supply driver chain for 8"enclosed track chain to drive 8" enclosed track chain. |
| | 7 Ton Enclosed Track Chain | Industrial heavy duty chain | Painting line cardan chain | Cardan Chain employs alternating vertical and horizontal wheels with a symmetrical pin located at each pitch. |
| | Driver chain for 7 Ton Enclosed Track Chain | Drive chain conveyor | BI-planar chain | ZMIE also supply driver chain for 7 ton enclosed track chain to drive 7 ton enclosed track chain. |
| | Cast Combination Chain | Forestry processing conveyor chain | Case conveyor chain | C55 | Cast combination chains are made of cast block links and steel sidebars alternately spaced. |
| | Casting conveyor 900 Series LPG pintle chain | Case conveyor chain | Cast links | Each pintle chain is used in different applications, such as fertilizer spreaders, feeder systems, hay handling equipment. |
| | Casting conveyor 700 Series pintle chain to handle gas bottle | Case conveyor chain | Pintle chain applications | Zmie has several different classes of pintle chain, H series, 400, 700, 900 series pintle chains. |
| | Casting alloy steel or stainless steel 400 Series pintle chain | Case Conveyor Chain | Heavy industrial chain | Pintle chains are amongst one of the earliest forms of conveyor chains to have been used. |
| | Alloy steel high strength H series pintle chain | Feeder systems conveyor chain | Casting chain | Case conveyor chain | Pintle chain has cast body combined barrel and link assembled with a carbon steel pin. |
| | Welded steel drag conveyor chain | Cement industry chain | Drag chain conveyor | Conveyor chain | The welded steel drag chain is comparable to the welded steel chain and in some identical sizes, the drag chain is wider. |
| | ZE series engineering metric roller conveyor chain |Industrial chain | Standard chain | Palm oil industry chain | ZMIE supplies a wide variety of Metric roller conveyor chains according to ISO standards. |
| | Super Capacity Bucket Elevator Chain G100 Type | Heavy duty industrial chain | Large industrial chain | Zmie Heavy duty industrial Series chains are built to ASME/ANSI B29.1 standards. |
| | Super Capacity Bucket Elevator Chain NSE type| Heavy duty industrial chain | Bucket conveyor chain | Super Capacity Bucket Elevator Chain NSE Type is that who is manufactured in accordance with ISO and DIN standards. |
| | Super Capacity Bucket Elevator Chain NE type | Heavy duty industrial chain | Bucket conveyor chain | Bucket Elevator Chain is a Heavy Duty Industrial Chain. |
| | Mill Duty Bucket Elevator Chain | Heavy duty industrial chain | Chain attachment | Bucket conveyor chain | Mill Duty Bucket Elevator Chain is that who is manufactured in accordance with ISO and DIN standards. |
| | ZC series engineering metric roller conveyor chain | Palm oil industrial chain | Agricultural chain | ZMIE has serval kinds of Z series chains, such as the ZT/ZC series conveyor chain. |
| | Attachments for Z series engineering metric roller conveyor chain | Cadenas chain | Chain link attachments | ZMIE Z series engineering chain keeps your operation moving is designed to exceed the listed ultimate strength ratings. |
| | Z series engineering metric roller conveyor chain | Palm oil industrial chain | Carbon steel roller chain | ZMIE supplies a wide variety of Metric roller conveyor chains according to ISO standards. |
| | FVC series engineering metric roller conveyor chain | Heavy duty industry chain | Sugar mill industry chain | FVC series hollow pin chains do not have any specific alphabetical prefix so are described as FV hollow pin type. |
| | FVT series engineering metric roller conveyor chain | Chain manufacturers | Standard chain | FV series conveyor chain manufactured to DIN 8165 available in deep links and rollers and plain bush construction. |
| | Attachments for FV series engineering metric roller conveyor chain | Chain manufacturers in China | FV Series Engineering Metric Roller Conveyor Chains are those who are manufactured in accordance with ISO and DIN standards. |
| | FV series engineering metric roller conveyor chain | Sugar mill industry chain | We supply a heat-treated pin option for our metric conveyor chains as well as a full lineup of metric conveyor chain sprocket. |
| | MC series engineering metric roller conveyor chain| Sewage disposal chain| Roller conveyor chain | MC series Engineering Metric Roller conveyor chains are those who are manufactured in accordance with ISO and DIN standards. |
| | MT series engineering metric roller conveyor chain | Heavy duty chain | Roller Conveyor Chain | Material handling chain | Metric conveyor chains are those who are manufactured in accordance with ISO and DIN standards. |
| | Attachments for M series engineering metric roller conveyor chain | Cement industrial chain | k2 attachment chain | ZMIE supplies M-series, MC series (hollow pin), FV series, FVC series and custom made to order metric conveyor chains. |