How to Prevent Premature Wear of the Roller Chain by Maintaining It?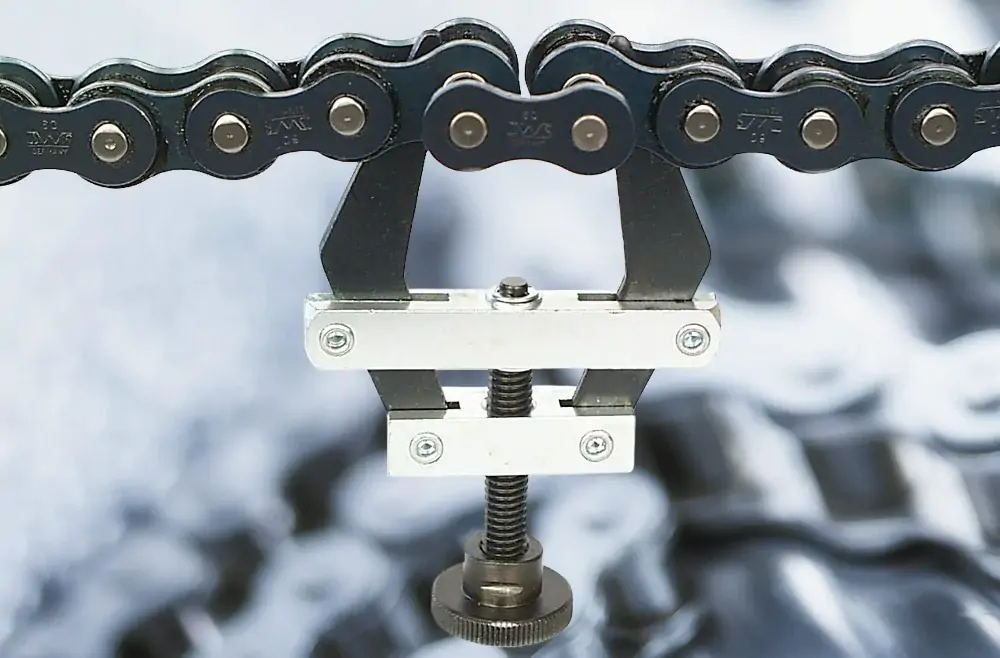 When buying any
roller chain
it is important to properly maintain it. Doing routine maintenance to a roller chain not only improves safety, but also reduces downtime, energy consumption, and drastically improves the chain life. The followings are the reasons for premature wear of the roller chain and maintenance methods.
Roller Chain Wear Diagnostics
There is a wide range of reasons that can cause a roller chain to wear out prematurely. Before we go over the ways to maintain a roller chain let's go over a few of the common chain wear causes.
(1) Worn Contour
This is caused by abnormal wear rubbing or metal-on-metal contact.
Use a roller chain guide or wear strip, also check the alignment of chains and sprockets.
(2) Tight Joints
This is typically the result of a foreign substance packed in joints, corrosion, or bent pins.

Clean and re-lube the roller chain or purchase a new roller chain.
(3) Hooked Sprocket Teeth
Excessive chain and sprocket wear.
Replace sprockets immediately and roller chain if signs of excessive chain wear are prevalent.
(4) Abnormal Protrusion or Turned Pins
Excessive friction is caused by high loading and inadequate lubrication.
Replace roller chain, improve lubricating, and eliminate overload conditions.
(5) Corrosion Pitting or Rust
Exposure to corrosive environments, harsh chemicals, or moisture.
Replace the roller chain with a corrosion-resistant roller chain.
(6) Broken Cracked or Deformed Rollers
The speed is too high and or the sprockets are too small.
Replace roller chain and reduce speed or replace roller chain with high-speed roller chain.
Roller Chain Maintenance
(1) Roller Chain Guides
Using a roller chain guide is one of the best ways to prevent metal-on-metal contact. It also promotes lower operation noise levels and with less friction, you save on energy costs.
(2) Roller Chain Lubricating

Proper lubrication is a must for maintaining a chain This is done a few different ways and it depends on the application.
The most common way that people lubricate their roller chains is by using a spray can. This is because it is the most economical method in simple applications and it is something that can be put on a daily or weekly maintenance schedule easily.
The second most common method for lubricating is using an automatic chain lubricating system. These systems are custom manufactured using in-stock components to suit the needs of any application in the most effective manner possible. Using an automatic roller chain lubricating system saves time and makes sure that your roller chain is always being properly lubricated.
(3) Roller Chain Tensioning
Not all applications require a roller chain tensioner, but using one has its benefits. Keeping consistent and even tension on a roller chain reduces uneven wear and the initial shock of stopping and starting.
ZMIE CHAIN provides a variety of safe and efficient conveyor chains and roller chains and provides users with effective solutions. If you want to know more about roller chains after reading the above, you can contact us for professional advice.
With excellent R&D technology and high-quality product services, we have quickly become one of the leading
quality chain
suppliers. We take the needs of our customers first, and our experienced manufacturing team and strict quality inspection system can continuously adjust and optimize the plan. At the same time, we can also provide customers with thoughtful one-stop service and effective solution technology. If you want to buy our roller chain, please contact us immediately!